3D Printed Customized Jigs and Implant for Internal Hemipelvectomy in Spindle Cell Sarcoma

Implant Specifications:
Name of the surgeon : Dr. Himanshu Rohela
Place : Kokilaben Dhirubhai Ambani Hospital
Implant : Customized Hip Implant
Surface finish : Matt finished both side
Material : Patient Specific Anatomy Model, Customized Bone Resection Jigs, Patient Specific Hip Implant
Introduction:
Incredible AM Pvt. Ltd. is the first company in India working exclusively with Medical 3D printing in a certified world class facility. The company has built the facility as per FDA norms. It is certified with ISO 13485 and ISO 9001. Key features includes Class 10000 clean room, US-FDA approved software, state of the art equipment and also an excellent team of doctors, engineers, biomedical engineers, CAD designers and medical consultants who are there to deliver outstanding services to doctors, hospitals & patients with complete validation & tests conducted to certify the process & product. Incredible deals with Customized Implants, Standard Implants, Bio models as well as Cutting Guides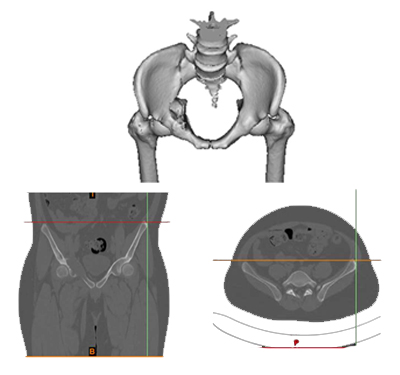 Background :
A newly married male 25 years old suffering from cancer of right pelvic bone. The difficulty in the case was the site of his cancer which was very rare, around the hip joint, which is major joint in body surrounded by vital organs. In such cases it's a tough task for bone cancer surgeon to remove the tumor and save the limb as well. Most common treatment advised is amputation with chemotherapy or removal of tumor with internal hemipelvectomy followed by which patient will be in bed for 6-7 months with a 7- 8 cm shortened leg. These surgical options have a grave psychological impact with difficulty in daily activities and rehabilitating back into society and work.
One of the surgical alternatives available where the limb could be saved, such as replacing the pelvic tumor with allogenic graft, but availability of such fresh frozen grafts is tedious and are not available in India due to lack of donor and this technique is also associated with many complications like fracture of graft. Under such scenario 3D Incredible offered novel limb salvage surgical alternatives where limb could be saved, such as removing the pelvic bone and replacing it with 3D metal printed reconstructive prosthesis of pelvis with replacement of hip joint with chemotherapy before and after the surgery.
Solution:
Dr. Himanshu Rohela, leading Onco Orthopedic surgeon in Mumbai, Maharashtra after studying the scan and his previous treatment records, concluded that the patient is suffering from cancer of right pelvic bone having tumor. The challenge was to save the leg thus using Patient Specific Cutting Guides and Patient Specific Hip implant. Incredible team discussed with Dr. Rohela, the designing and entire manufacturing process. It initially started with surgical planning and case simulation with the help of US FDA & CE approved Materialise Mimics software by superimposing CT & MRI DICOM data & Anatomical Model. As Anatomical model maintained 1:1 ratio with the anatomy, hence showed excellent detailing of the defect, the model was also used to design jigs & implant on actual bone, which further helped the pre surgical planning. Once the planning was finalized, the surgery was accompanied with not only Customized Implant but also Cutting guides & Jigs. Customized Jig helped in precise cutting of bone tissue, and are manufactured using biocompatible Nylon material which is autoclavable. Customized jigs were planned in with the help of pre operative CT scans and MRI, the resection planes were decided by keeping 1 cm margin from the tumor. Ileum cut was given from lateral to medial direction in the supra acetabular area , the superior pubic ramus cut was from anterior to posterior and the ischial cut was given from lateral to medial direction. The design was completed with valuable inputs between the doctor and the Incredible design team together. The benefits of a 3D printed implant was its customization which resembled not only the anatomy but also gave a perfectly fitting implant. The variable sizes helped in strengthening the particular area required. Finite Element Analysis was carried out which to determine the strength, stability and functionality of the implant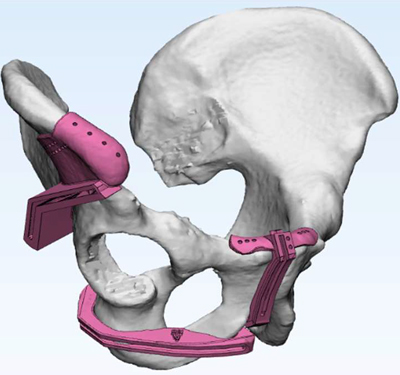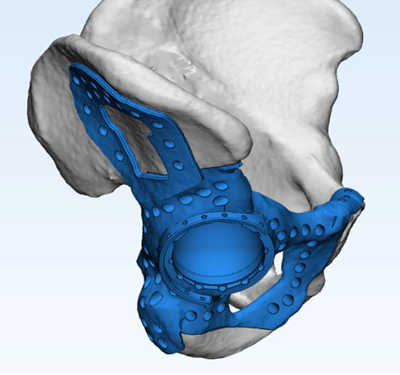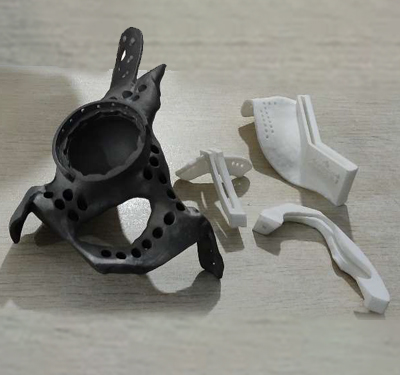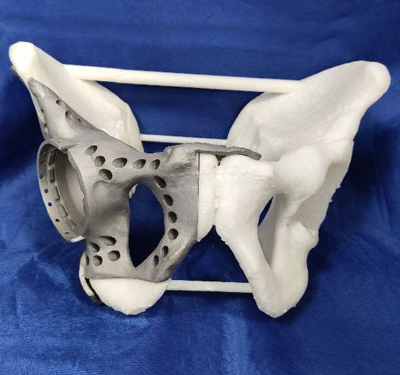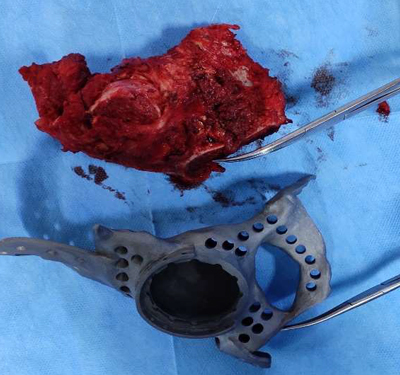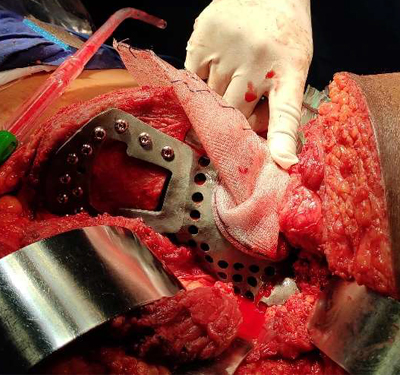 Quote from Doctor :
"3D Incredible has helped us to save the limb of the patient, Customized implants are boon for Orthopedic surgeries."
Quote from Doctor :
"Dr. Rohela sir counselled me very well and post-surgery my daily activity and life has come to normal. I am thankful to Dr. Rohela and 3D Incredible.."
Conclusion:
Implant was manufactured under ISO 13485 guidelines & tested to give an accurate fit & utmost safety. Cutting Guides and Jigs from 3D Incredible helped the Surgeon to give an accurate cut and complete the surgery in one go. Once the resection was done, customized implant from 3D Incredible was implanted. Implant was manufactured using Ti6Al4VELI, a biocompatible material; as per anatomical requirement, contour and bone thickness which are patient specific. 3D Incredible customized cutting jig and customized implant helped to reduce OT time as there was no further adaption of standard implant required on OT Table. After successful surgery, we have the same young man walking on his new hip without the fear of cancer and recovery of patient is good.
At Incredible AM Pvt Ltd rigorous testing & validation of its plant, equipment and process is carried out to ensure safety and quality of the Implant.
Contact Us
Plant Address
Gat No. 699/1, Koregaon Bhima,
Behind Kalyani Forge, Tal- Shirur,
Dist- Pune 412 216,
Maharashtra, India.
+912137667933
+912137667935
Pune Office Address
G-11/S11, Paresh Industrial Complex, Shankar sheth Road, Pune 411037, Maharashtra, India.
+91 7030940790 (Engineering)
+91 7030952719 (Medical)
info@3dincredible.com