Implant Specifications:
Name of the surgeon : Dr. Pramod Giri
Place : Neuron Brain and Spine Hospital, Nagpur.
Implant size : 118X91 mm
Surface finish : Matt finish both side
Implant Thickness : 1.00 mm
Screw size : 2.00 mm
Introduction:
Incredible AM Pvt Ltd is the first company in India working exclusively with Medical 3D printing in a ISO 13485 certified facility. The company has built the facility as per FDA norms. It is certified with ISO 13485 and ISO 9001. Key features includes Class 10000 clean room, US-FDA approved software, state of the art equipment and also an excellent team of doctors, engineers, biomedical engineers, CAD designers and medical consultants who are there to deliver outstanding services to doctors, hospitals& patients with complete validation & test to certify the process & product. Incredible deals with Customized Implants, Standard Implants, Bio models as well as Cutting Guides.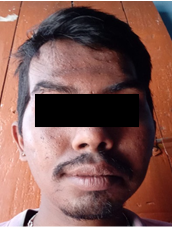 Background :
Mr. Sachin Sahare, a 22-year-old boy residing in Nagpur had a road accident in March 2019. He was immediately admitted in near by private hospital and underwent bifrontal craniotomy. Later he noticed abscess in Scalp and was shifted to Neuron Hospital, Nagpur. This Lead to another surgery for removal of the infected bone flap was at the hospital and patient /doctor noticed asymmetrical skull.
Solution:
Dr. Pramod Giri, a well-known Neuro surgeon at Neuron Hospital studied the patient's CT scan images. After doing so he concluded the need for a patient specific cranial implant. Incredible team discussed with Dr. Giri the design and entire manufacturing process. The design was completed with valuable inputs between the doctor and the Incredible design team together. The benefits of a Customized implant were discussed. The implant would also help to give the patient back his confidence by maintaining the aesthetics. The specialty of the design is the screw location which helps is giving the accurate appearance as well as better placement.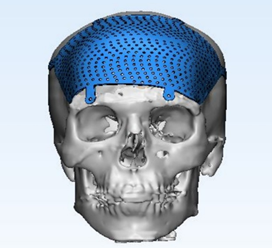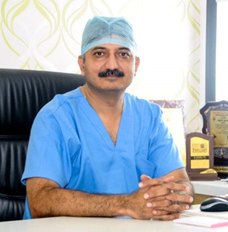 Quote from Doctor :
"Implant fit is accurate, Proper fit and good aesthetics."
Conclusion:
Implant was manufactured under ISO 13485 guidelines & tested to give an accurate fit & utmost safety. Implant was made as per anatomical requirement, contour, and bone thickness which are patient specific. This implant also boasts of faster recovery, less invasiveness and lower risk. As the implant is accurately placed, it is aesthetically perfect, which boosts mental and physical state of the recipient allowing him to return to his normal routine life within a very less time. Incredible AM Pvt Ltm has undergone rigorous testing & validation of its plant, equipment and process to ensure safety and quality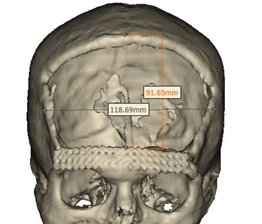 Contact Us
Plant Address
Gat No. 699/1, Koregaon Bhima,
Behind Kalyani Forge, Tal- Shirur,
Dist- Pune 412 216,
Maharashtra, India.
+912137667933
+912137667935
Pune Office Address
G-11/S11, Paresh Industrial Complex, Shankar sheth Road, Pune 411037, Maharashtra, India.
+91 7030940790 (Engineering)
+91 7030952719 (Medical)
info@3dincredible.com